Social Reputation and Listening Programs for Online Reviews
In a world where brand attitudes are almost entirely based on online conversations, strategic social media management is not a nice-to-have, it's absolutely necessary.
At Shoppers Confidential, we offer a broad range of Customer Experience Management programs and services for companies that are interested in putting their best brand forward across multiple social platforms. Social media management includes a thoughtful strategy that will ensure your target audiences are constantly encountering a consistent brand voice, which is persuasive and appealing.
What Shoppers Confidential Social reputation and listening Program Does for You
Our systems work to collect important customer feedback and online reviews from each of your external review sites, including Facebook, Google, TripAdvisor and over 50 other social review sites. Here's how we can help manage your online review process:
Our system will help to craft digital marketing suggestions and assist in responding to your latest online reviews
Your approved responses can be published online instantly
Our systems will make suggestions and recommendations for sharing user-generated content
Streamline the internal process of managing and responding to customer review sites with one integrated dashboard and inbox
Maintain branding consistency throughout each of your online platforms, ensuring profiles are properly claimed, the business name is consistent, the correct contact details are listed, and up-to-date hours of operation are noted
Strategic Social Media Management Systems for Businesses
Meet your social media manager: It's like you have a whole new team member at your disposal
Your Shoppers social media management systems and support team will catalyze your brand awareness and sales goals in a variety of ways. From responding to customer reviews through to sharing eye-catching photos, we will help ensure you are constantly in front of the right people – with the right messages and images.
Whether it's engaging with potential clients on LinkedIn or adding vibrancy to your Instagram page and directing consumers to your website, we will take care of not only your outreach needs but also report back on how well we're doing.
We will collect and report on your customer feedback and ensure your metrics are meaningful to you. That way, you can use these statistics to make powerful changes and take advantage of great opportunities to form longer-term lucrative relationships with people who will sustain and grow your business.
When you implement social media management effectively, everyone wins.
We've never met a company we couldn't help with our social media management strategies and smart implementation tactics. Not only do we reduce the incidences of social media blunders, such as failing to respond to customer recommendations or negative reviews. Our approach is always proactive and positive.
Why Social listening Matters
A look at what a strategic social listening program means for businesses and professionals:
Increase in revenue and ROI
Increased customer profile views
Increase in customer leads
Reduced social media management time for internal team members
Reduced social media management cost when evaluating time spent on management
Encourages team empowerment
Encourages a more personalized response effort from team members when it comes to answering and repairing negative feedback
Allows businesses to reinforce and grow their existing loyalty programs
How Reply and Feedback Systems Work
Your Digital Assistant, Jenny can support you and your team by performing the following duties when it comes to responding to social reviews:
Providing responses to negative and positive messages
Sharing reviews to Facebook
Sharing user-generated content on social platforms
Adding user-generated photos to your Google My Business profile
Updating location information
Your Dashboard & Inbox
More than just the Dashboard, you'll also get an Inbox with everything you'll ever need.
More than just supporting your day-to-day interactions, we will also pull your information together into an easy-to-read Dashboard. From this easy-to-interpret tool, you'll be able to tell who is engaging with your social media platforms, as well as how well we're doing with responding effectively – and quickly – to the people who matter to your brand.
Stop searching from one social media platform to another, instead receive all your Facebook, Google, Instagram messages into one well-managed Inbox. See comments pop up as they come in. You can set up automatic triggers to signal to your colleagues and employees when they need to take action to nurture important relationships with customers that will last.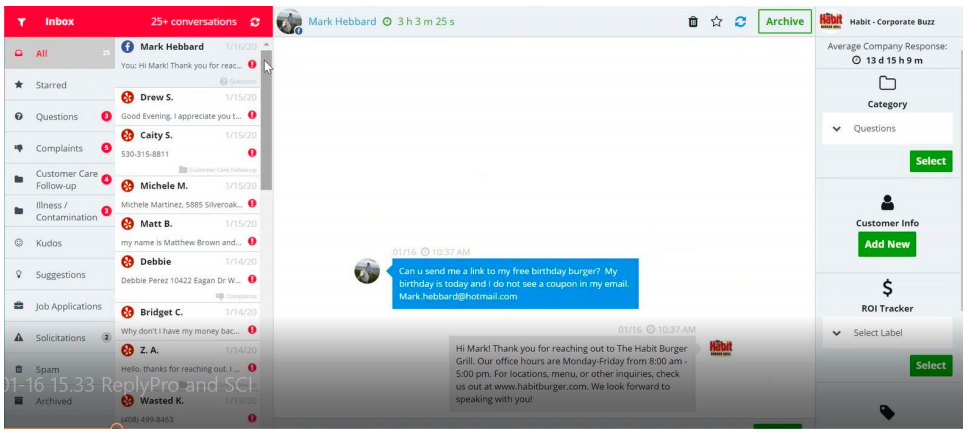 Let Shoppers Confidential Support Your Social reputation and listening Management Efforts
Social Media Management Is an Investment, Not a Cost
Did you know that when customers encounter negative reviews online, even from people they don't know, it can sway which way they choose to spend their money? Once consumers feel as though you've let them down, and especially if it has been made public, it's difficult to remedy the effects on your brand.
That's why, it's so important to be paying attention to what is happening online – every day – so you can mitigate issues before they ever even arise. Instead of spending important human resources that should be focusing on direct sales, operations or product development, you can work with our team of Shoppers Confidential experts.
Put your mind to rest and your trust in our strategic social media management team. Between our industry knowledge, immense talent and streamlined processes, we are committed to achieving your social media goals with authenticity, accuracy and effectiveness.
Contact Shoppers Confidential today and allow us to tell you more about our social media management services. Let us show you how brand attitudes directly affect your bottom line – and how we can help you adjust and reaffirm both.
Responding To Reviews
Responding to ALL your reviews is more powerful than you think!
We have a really great blog post that explores why responding to The Good, The Bad, and The Weird reviews are essential to the customer experience.
We have multiple platforms that you can use to view and respond to your reviews all at the same time
Our data aggregation software also sets your team up for success by keeping all of your location reviews in one place or separated by location or regions