Action Planning
All the awesome insights from your Customer Experience Program automatically turned into Action Plans.
Remove gaps and extra work by automating your action and corrective action plans.
"Insights without action is worthless"
~Marie Forleo
benefits to automatic action planning
Our various Customer Experience Programs are all designed to help you gain valuable insights. Manual discussions, assigning improvement tasks and then the follow-up can be time consuming and leave room for miscommunications and breakdowns in the flow. Essentially a gap in your Quality Management Program. We can help! We can close the gap with an Automated Action Planning service that makes streamlining these processes a breeze!
Not only does streamlining your action plans mean reduced steps and gaps, but it improves employee engagement, provides 100% data accuracy, and tracks everything all in one place.
Design your survey for action
We will help you custom design a survey that gains your business the insights you need and help you identify areas that can be set for automatic action planning.
what does action planning look like?
We have a four step process for our Automatic Action Planning Program:
Acquire Data

: Your custom Customer Experience Program will gain insights and data. This may be through Mystery Shopping or any other one of our CX tools.
Analyze Data: Our portal system automatically compares the results to your companies defined KPI's and standards and issues a predefined action plan to the specific stakeholder (complete with due dates and instructions)
Act: The assigned stakeholder will complete the action plan right in the portal system to keep all the information linked and accessible 24/7.
Watch: After consistently having the insight and action plan program in place, you will see direct improvements to your ROI, customer feedback and employee engagements!
Where is setting up Action Planning most successful?
Wherever you are gaining insights, Action Planning is successful!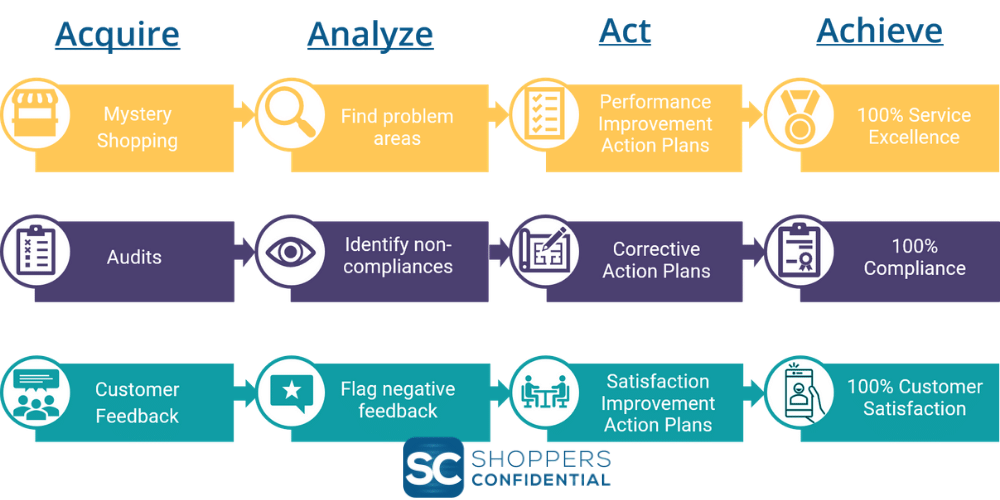 Free Download
A Complete Summary of our Action Planning Program
Everything you need to start the conversation about measuring insights and creating action plans.
Download the Action Planning Guide