Appeals: Corrective Actions & Improvement Processes
Encourage engagement and interaction with your survey and audit results with automated corrective actions.
Appeals is a tool for the management of Corrective Actions, Audit Errors and Exceptions. They enable staff to actively participate in Mystery Shopping and Audit programs by providing feedback on exceptions or audit errors and reporting self-initiated corrective actions addressing identified non-compliances. This helps your team achieve excellence in service and operations towards:
100% Performance Improvement – issues and non-compliances are resolved faster
100% Staff Engagement – by providing a tool to request question and KPI curing, an incentive is created for staff to participate in the program and actively resolve issues
100% Data Accuracy – exceptions or audit-related errors are easily addressed and resolved
Take your corrective actions and improvement plans to the next level!
How much time do you spend emailing, having meetings and discussions to decide what a problem is, who is going to champion the issue and what they did to resolve it? What if we could tell you that we have a program that will do things automatically?
Remove excess communications
Create deadlines and follow-ups
Track the actions taken with supporting attachments and details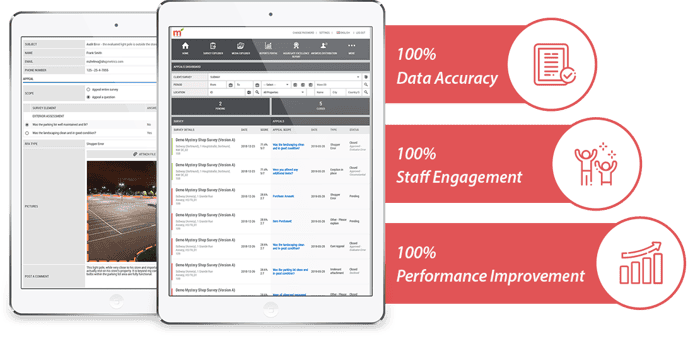 How does it work?
When we work with you to build your survey or audit forms, we can address with you what KPI's and action items you would like to be added to the program. From there, together we define who is responsible for those specific KPI's and create an alert system for underperforming results. The KPI owner will be sent an automatic email informing them that a result has been submitted that needs attention. This request will go to their portal inbox where it will have a predetermined due date addressed to it. The KPI owner will review the issue, create and implement the countermeasure and enter in the details of what they did along with any supporting photos or documents. As a team, we can determine how many notifications the KPI owner will receive and who else will receive notices of updates or overdue countermeasures. This is a very simplified summary of how it works, but there are many other uses for this technology that we can tailor to suit your business needs. Of course, like all of our technologies, Appeals is available to use on your mobile phone or tablet within the app or the weblink.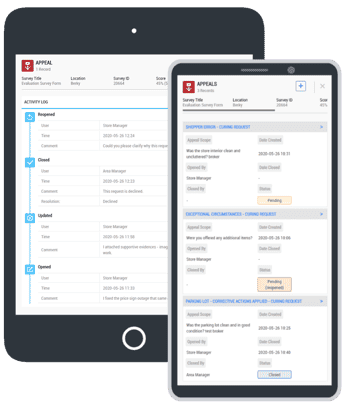 What are the use cases for this technology?
Corrective Action Appeals for Question Curing
Let's give an example of when the pro-active version of Appeals would be helpful:
Pat owns a gas station that is part of a franchise. Pat prides themselves on having excellent scores on their monthly mystery shops. Upon receiving the results for their latest mystery shop, they noticed that they lost scoring because a light on the street price sign was burnt out during the evaluation. Pat knew exactly when this happened as the evening manager called to inform them of the issue when the lights came on at dusk. Pat remembered calling the repair person to come and replace the lightbulb that night. Using the Appeals feature in the portal, Pat was able to ask for the question to be cured, or updated, by including the attachment for the repair invoice and a photo of the working light. Pat's regional manager agreed to the score curing request and updated the answer. The RM noted that they were pleased with Pat's proactivity and were happy with Pat's investment in the program and the benefits it offers their business.
Appeals to Address Audit-Related Errors
Let's give an example as to when this appeal would be useful:
Kelly has been doing a great job managing a new supermarket store and her mystery shops and internal audit scores prove it. With such an excellent track record, Kelly is surprised by a report that came in with points lost. Kelly noted that the survey for the mystery shoppers asks about the condition of the parking lot. For this particular new location the store does not control the parking lot, the leasing company does. The lost points on the survey were outside of Kelly's control. Kelly contacted the chains' managers and explained the situation. They were thrilled that Kelly takes such a keen interest in the mystery shopping results and agrees that for her location, this should not be applicable and count towards the store's score. The management team was able to cure the scoring and note to the client line manager at Shoppers Confidential that this location should not have these questions on their survey, which was easily adjusted. Kelly is glad to be heard by the management and the whole process was quick and easy with minimal communication required to resolve the issue.
Appeals to Address Exceptional Circumstances
Here we will give an example as to when appeals help to address exceptional circumstances:
Amari is a great restaurant manager. With a keen eye for detail and great communication skills, Amari has seen improvements in the restaurant since becoming the manager. The results for the latest mystery shop came in and Amari was surprised at one of the results. The shopper noted that they were not offered the specials. Amari remembers that at lunch that day when the shopper visited that they had run out of the special and they had instructed the serving staff to discontinue offering it. Amari knew that he could simply create an appeal with the proof the specials were sold out through Shoppers Confidential and his supervisor could resolve the low up-sell score. Amari is actively engaged and committed to maintaining his restaurants' high scores and the management appreciates the involvement and cures the scoring quickly and easily.
Want more details?
Ask us about a program to suit your needs
Let's have a chat to discuss your goals, needs and the current roadblocks you're experiencing.
Get a Free Quote
Who can benefit from setting up appeals?
Anyone! Anyone who uses our mystery shopping, internal audits, or employee satisfaction survey services can have the Appeals feature set up on their program.
Reach out to your Shoppers Confidential rep and get started today!
How will Appeals benefit my team?
The Appeals Dashboard is a tool for senior management and staff to easily manage and monitor the Appeals progress live:
Store Managers: track progress of appeals
Senior Managers: manage approval of appeals
Critical info emphasized
Part of your Analytics for data metrics
Mobile Friendly-Check in on the go from wherever you are!
Our Appeals process also greatly improves employee engagement and empowerment.
Knowing that employees can take charge of results and be rewarded and heard when they proactively address issues,
improves morale and employee satisfaction.