Editing
The flexibility to work from wherever you want, whenever you want, with a 100% goal-completion mindset.
Better Together.
We are building a team of like-minds who are not afraid to push the boundaries of whats possible. Together, we work hard, collaborate constantly, lift one another up, and challenge each other without fear. We also believe that a round of virtual high-fives is a great way to end meetings.
Our Values
Our work culture is the foundation of our success. We sincerely believe everyone should have flexibility, a work/life balance, and the freedom to make decisions to ensure success. We can do this by exercising our company values consistently.
Benefits we offer
We believe wholeheartedly that taking care of our team is one of the most impactful things we can do. Thats why we offer outstanding benefits.
What does an Editor do at Shoppers Confidential?
Editors will review submitted surveys for spelling, grammar, syntax and completeness
Editors will verify geolocation tags on submitted photos
Editors are able to communicate effectively with shoppers for additional information
Editors have a keen eye for details and are able to determine fraud
Editors will communicate with the scheduling team and Field Coordinator when surveys are invalid to replace them
Editors will be able to complete the edits within the required timeframe
What is valuable To Have As a Scheduler with Shoppers Confidential?
Experience with ShopMetrics
Previous editing experience
Reliable internet and a cell phone
A dedicated workspace with a working computer
Time management skills
The desire to grow and develop within the company
Effective communication skills
A goal-oriented personality
A willingness to continually improve our processes and resources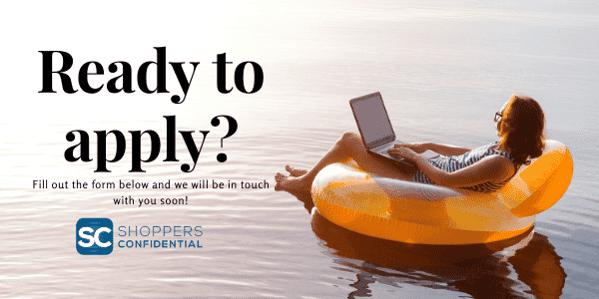 Want to be an Editor with Shoppers Confidential?